It happens to every sales team at one time or another. No matter your industry or what you're selling, you hit a slump. Sales aren't closing; your team isn't meeting goals. Pretty soon, your people are unmotivated and discouraged. Sound familiar?
If you're in such a slump right now, you might need a little motivation. To help you and your team get inspired, here are seven quotes worth applying today to sales motivation.
1. "You miss 100 percent of the shots you don't take." — Wayne Gretzky
Nobody likes rejection. When you keep hearing "no" from clients, it's easy to get discouraged as a salesperson. This quote from hockey legend Wayne Gretzky may help. Think like you're on the ice rink — remind yourself that if you keep trying, you have a chance to score. If, on the other hand, you give up, you'll never close deals.
2. "Everything you've ever wanted is on the other side of fear." — George Adair
Are your salespeople intimidated and/or overwhelmed? Is fear preventing them from launching forward with boldness and confidence? Talk about the normality of fear. Get your team to understand that fear is something to move past, rather than run from, and help them overcome one of the biggest sales challenges.
3. "Success seems to be connected with action. Successful people keep moving. They make mistakes, but they don't quit." — Conrad Hilton
Here's a great quote for the sales team that's made some blunders, especially when those blunders have cost deals. Follow Conrad Hilton's advice — put those mistakes behind you. Keep going, keep trying and remind yourself that successful people don't quit.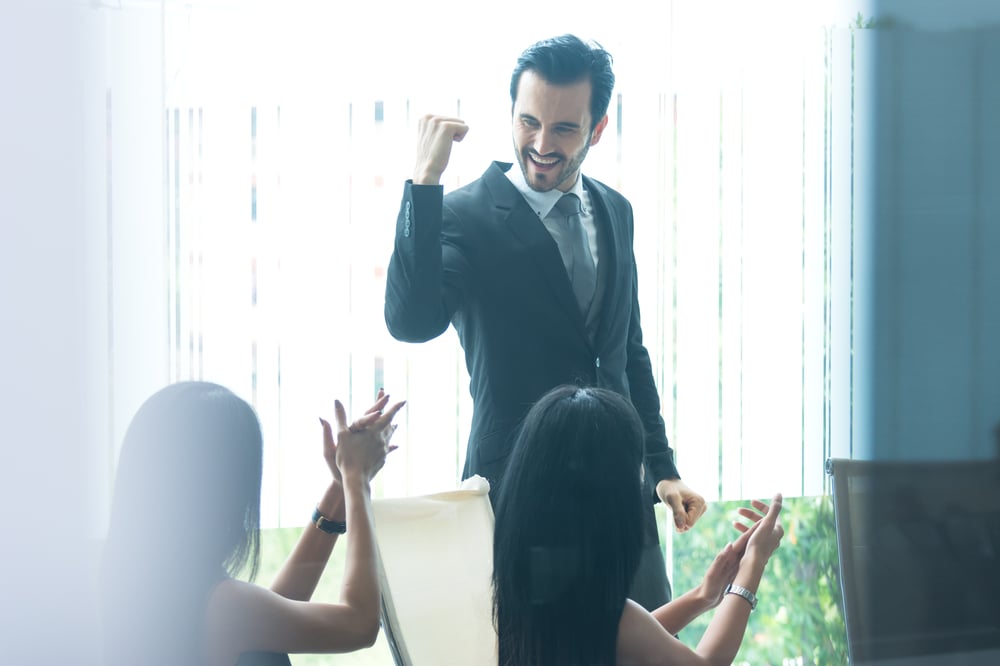 4. "Approach each customer with the idea of helping him or her solve a problem or achieve a goal, not of selling a product or service." — Brian Tracy
Instead of adopting the sales approach of focusing on what you're selling, take motivational speaker Brian Tracy's advice — try focusing on your prospect. What does he or she look for, need, want and desire? When you can set up your product or service as the solution to a problem, it's instantly easier to sell.
5. "Pretend that every single person you meet has a sign around his or her neck that says, 'Make Me Feel Important.' Not only will you succeed in business, you will succeed in life." — Mary Kay Ash
Makeup mogul Mary Kay Ash knew a thing or two about selling. So, when you're looking for fresh inspiration on sales calls, follow her tip about valuing your customers. When you treat your prospects with respect, you can make the kinds of connections that lead to sales.
6. "90 percent of selling is conviction, and 10 percent is persuasion." — Shiv Khera
One of the biggest secrets to better selling is conviction, according to author and self-help expert Shiv Khera. Convince yourself and your sales team that your product or service is valuable, and you're much more likely to get prospects to want it.
7. "No pressure, no diamonds." — Thomas Carlyle
If the high stakes of securing more deals is stressing out your team, remind them that challenges are where we grow. As Scottish philosopher Thomas Carlyle said, some of life's most precious materials — diamonds — exist only because of the great pressure placed on them. Help your team see this stressful period as an opportunity to motivate them en route to better results.
Whether your team is lamenting a lost sale or forgetting what they love about the sales process in general, you can re-inspire your workers with a little creative motivation. Use the seven quotes above to initiate conversations that inspire your salespeople to get out there, make connections and generate sales — by changing the way you do business.
And for an extra added dose of motivation, why not try out one of these productivity-boosting sales contest? We've got no less than 11 sales competitions in this free guide. You can download your copy by clicking the button below!
About Our Guest Author:

Shanna Mallon is a contributing writer for Straight North, a leading Internet marketing agency in Chicago providing SEO, web development and other online marketing services. A freelance writer, Shanna has been creating online content professionally since 2007.