I count myself very lucky. Professionally, I've had a colourful career, helping organisations of all shapes and sizes reshape and transform their business, offering them guidance and fresh ideas to boost sales and meet their targets. During my career, I have been fortunate enough to work with some of the best sales teams in the industry and thanks to that time, I've had the chance to learn a lot about the intricacies of a sales organisation. And I've noticed there's some common characteristics they all seem to share…
Dr. David Kirk, Chief Revenue Officer, CloudApps
Every sales team is made up by at least three different types of people. First, you find the top performers; a small group who consistently bring home a disproportionate share of the number. What often makes them great is that they have an established and disciplined method of selling (a unique 'winning way', you could say). They use this 'winning way' to systematically make better than average decisions on where to invest their time & effort.
Part of the same team but on a very different level, we also find a small percentage who, for whatever reason, struggle to contribute. These members of the team also have their own particular way of selling, an approach that seldom shows impressive results. Their inconsistent selling format usually runs its own course, placing them on the manager's hit list pretty early on in the game.
Then finally we have the majority of the team, those who are the solid performers. Often referred to as 'the core performers', they are the core group that make up the middle ground of the typical bell curve distribution of sales performance.
To help my customers generate the fastest increase in sales, I've always recommended a special focus on improving the performance of this core group of middle-ground performers. Look at this eye-opening stat:
A 5% performance increase in middle ground sales reps yields over 70% more revenue when compared to a 5% shift in top performers productivity
Source: Sales Executive Council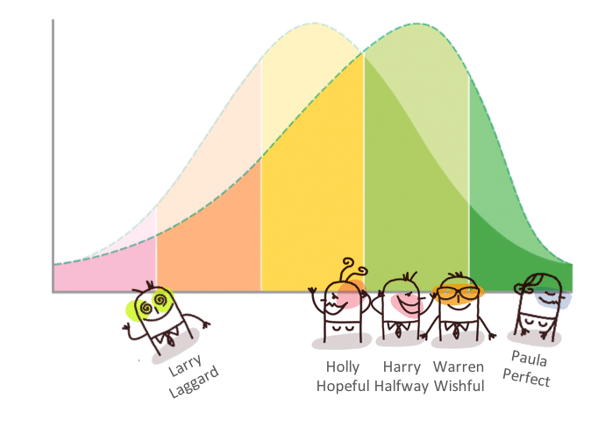 Imagine how your sales performance could be improved by uplifting this group. If you could move the distribution of this bell curve to the right, your average performers would contribute significantly more to your business. Now do that bit of maths in your head. How many core performers make up your team? What if each one of those magically turned into a top performer overnight? Just imagine the spike in revenue that would bring to your business…
Now, I'm not saying there's a 'magic' fix that's going to suddenly double your forecast but, there are some pretty legit methods that can help you boost the performance of your sales teams.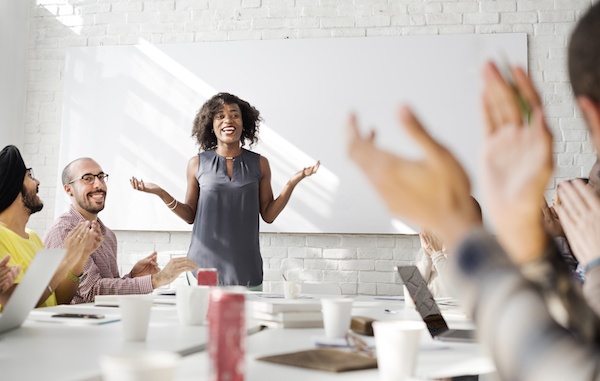 To get you started on your way, I've put down 8 innovative and practical ideas to boost sales.
1. Structure the right incentive scheme for your team:
We're sure you've already got incentive schemes that keep your reps sharply focused on closed deals. But have you considered what would happen if you incentivised your reps for the steps required to navigate the sales journey (the steps that form the same winning sales journey followed by your top performers)?
The outcome is that reps will achieve the results you seek much faster and considerably more often.
It's time we started thinking about "sales process incentives" rather than just "sales outcome incentives". Focus your reps on the everyday tasks, such as rapid lead response time, accurate lead conversions, contact & account profiling and the recording of deal next steps. These are the building blocks that will drive existing deals forwards and bring new ones into the pipe.
2. Focus on existing customers – never miss an opportunity to cross and up-sell:
It is far easier to sell more to customers that have already bought into your products & services than it is to snare a brand-new customer. What additional products & services can you offer your existing customer base?
Can you cross-sell them related products that complement others they have already purchased (or are in the process of purchasing)? Your customer is likely unfamiliar with your entire line of products, so introducing something that might be of interest based on past purchases can quickly increase the amount of that sale.
Done well, cross-selling also possesses a loyalty angle. If you know the customer well enough to structure additional products that will better support their business and deliver additional dividends, then the more trusting and loyal they will become.
Can you up-sell any of your existing customers (or deals that are in flight) onto a higher-grade or premium version of your products and/or services? Another sure-fire way to swell the sales number.
3. Get targeted in your efforts:
Do you know what traits are shared by your top customers? What industry are they in? Which region? Who in the organisation made the buying decision? What sort of product mix did they purchase? Just some simple example questions, but if you don't know the answers then it will be difficult (if not impossible) to target the people most likely to be your most profitable customers. Find out everything you can about your very best customers and develop your target customer profile(s).
If you have deals in your pipeline that do not conform to this target profile, qualify them hard as they are far less likely to close.
4. Become laser focused & 'jettison the junk':
Move away from the traditional thinking that a bigger pipeline is a better pipeline.
Most sales leaders still probably measure a healthy pipeline by coverage against their overall quota. For example, if there is three times quota coverage then it is usually considered to be a healthy pipeline. Clearly, this is founded on an assumption that has governed most sales leaders since the beginning of the profession – that bigger equals better.
However, recent research into pipeline performance revealed that salespeople with smaller sales pipelines are actually more productive than their peers with a larger pipeline of deals.
The reason why? Because they were experts at eliminating bad deals early in the sales cycle. By removing the deals that they either didn't want to win or knew they couldn't win, they were free to pursue fewer, more desirable deals with greater attention and focus. In fact, the smaller pipeline of active opportunities enabled them to make 20% more prospecting calls, conduct 25% more meetings with prospects, and close 50% more deals than their peers (by dollar amount). All this because they jettisoned the junk from their pipelines and used their time more wisely. Bigger is not always better.
5. Automate your marketing activities:
Invest in marketing automation, it will quickly take your sales prospecting to another level. These systems integrate digital marketing, social media efforts, email marketing and much more.
These marketing productivity systems ultimately allow prospects that have a need for the products and services you offer to find you more easily, filling your pipeline with better qualified prospects that are more likely to convert.
Use this approach to instrument every marketing campaign, allowing you to rapidly learn which tactics offer the highest and fastest conversions to customers.
6. Become a resource / trusted advisor by delivering kick-ass content:
Create content that covers helpful guides to the common questions, concerns and pains you help your customer base to address.
Become a "go-to resource" for your valued clients by providing valuable content in the form of help, advice, tips and how-to guides that will keep your business top of mind with customers and prospects alike.
For example, check out our 115 practical sales incentive ideas.
7. Customer Advocacy:
Increasingly, the most important person selling what you're offering is — your customer.
More specifically, your customer advocates. And, as buyers increasingly expect to learn about products and services from their peers who are using them, companies are getting more creative at putting their happy customers in front of those buyers. The forms that this kind of community marketing can take are varied, and might include straightforward references and referrals, customer blogging or video, participating in communities, associations or consortiums, speaking at industry events…it's a growing list.
Put your happy customers to work for you. Done well, you will find that they enjoy the experience and the limelight – oh and the added benefit - your prospects will convert that much faster!
Speaking of happy customers, listen to some of ours share their sales experiences via the SuMo Sales Academy.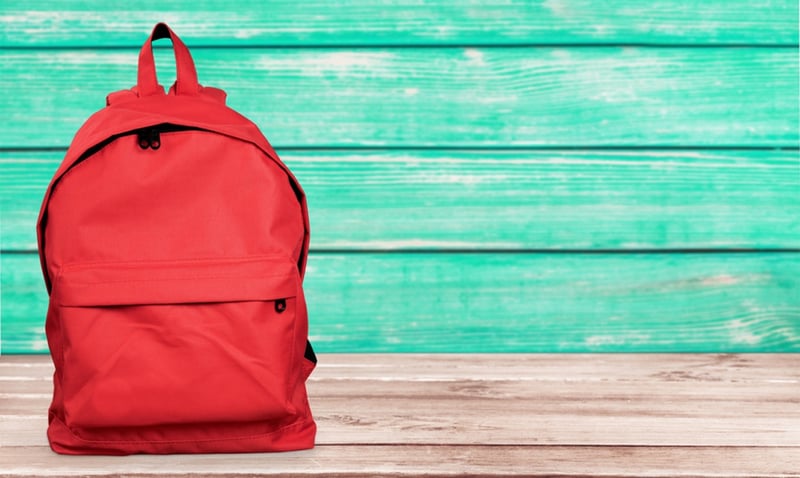 8. Get social:
Engage your audience via social media channels relevant to your business. Create compelling interactions and use the readily available (and often free) tools to queue up messages to be sent over a period of time.
Invest in driving traffic to your website (where marketing has created a spider's web of content designed to draw willing prospects in). Test social media and search engine paid campaigns to quickly lift traffic volumes. Test re-marketing adverts that gently remind previous visitors of your products and services.
Social tactics are a fast and low-cost way to have a voice and presence where your prospects regularly hang out.
These are 8 tips to get you started on the road to increased sales performance. Looking for more inspiration? Don't worry, we have plenty more! If you would like to speak to us about a strategy to increase your sales performance –contact us right away.
In the meantime, why not read our free eBook: 'Increase Sales Performance in 6 easy steps'?
Just click on the button below to get access.