Latest release delivers data driven behavioural learning that focuses sales improvement efforts
London, May 16thth 2017 - CloudApps Enriches its Artificial Intelligence & Deal Prediction Capabilities with Behavioural Insight Platform in latest release
CloudApps today announced a major advancement with the Summer release of its flagship sales acceleration platform, SuMo.
Released under the v6 banner, this third iteration, SuMo Insight, focuses on expanding previous capabilities to monitor & motivate even more complex sales behaviours.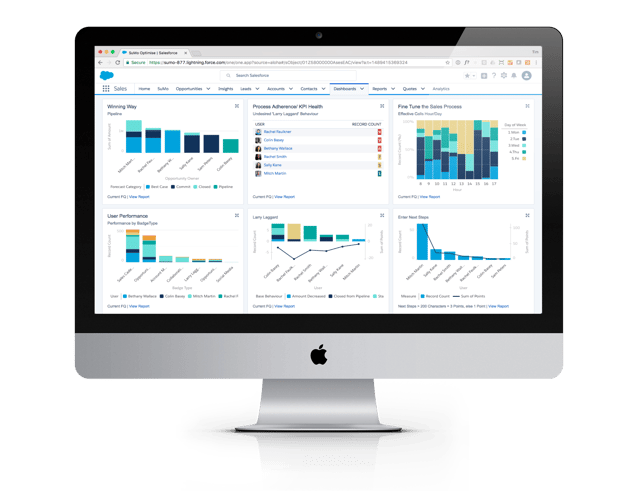 The previous two iterations for this native Force.com app brought:
Scale – v6 release one provided the ability to monitor and motivate very high volumes of sales behaviours across multiple sales teams with a smart asynchronous framework.
Artificial Intelligence (A.I.) & Guided Selling – v6 release two delivered deal outcome predictions, deal health visuals and guided selling by sales stage.
The third release, in a promised sequence of four, delivers a simplified administration interface for tracking & motivating highly complex sales behaviours. It further moves the app onto the latest Lightning UI styling, improving all-round usability.
This newly delivered behavioural insight platform provides sales leaders with data driven, factual insight into sales performance. For the first time allowing them to rapidly uncover the winning habits of their top performers. Armed with this knowledge, sales leaders can refine their guided selling approach to increase sales performance across the whole team.
The insight gained further enables sales operations leaders to optimise their sales process by identifying and removing points of friction and eliminating undesirable sales habits.
By tracking more of the complex sales behaviours and feeding the results directly into SuMo's A.I. engine the accuracy of deal outcome predictions is greatly enhanced. These real-time predictions act as an early warning of deal health and result in increased forecast accuracy.
Available immediately and delivered as a native and lightning ready app, SuMo can be deployed rapidly to deliver improved sales outcomes.
"This release delivers what it takes to make CRM actually work. It is now possible for our customers to coach sales reps to follow the path trodden by their most successful team members, provide an early warning system for every deal in the pipeline and continuously optimise their sales process.
SuMo breathes life into Salesforce. We firmly believe that this tool will become indispensable to every modern sales leader seeking to accelerate their sales teams." said David Kirk, Chief Revenue Officer of CloudApps.
CloudApps will be exhibiting SuMo's new capabilities at Salesforce World Tour London on May 18th. For your chance to win FREE sales performance insight (https://blog.cloudapps.com/swt-london-2017) or to book a one-to-one demonstration of SuMo v6, please get in touch here: (https://www.cloudapps.com/salesforce-world-tour-london/)
About CloudApps
Founded in 2009, CloudApps accelerates sales performance & delivers customer service excellence by uncovering, monitoring and coaching more of the high value "winning" behaviours that form the cornerstone of success.
CloudApps is in use by over 250 customers, including blue-chip organisations globally such as Vodafone, Unilever, Roche, Post Office, SIG and Qlik.
For more information, go to https://www.cloudapps.com/
Media Contacts
Tim Knight (tknight@cloudapps.com)
Want to learn more? Discover why sales operations hold the key to busting your sales target.