Dr. David Kirk, Chief Revenue Officer at CloudApps recently talked to SuperbCrew about how SuMo, our Salesforce native application, is increasing sales performance for its enterprise customers worldwide. You can now read the full interview below:
CloudApps increases sales performance through SuMo, a cloud-based app built on the Salesforce platform. Their development team deliver multiple product updates throughout the year driven by customer demand. Due to the seamless nature of upgrades their customers are able to enjoy this constant innovation at no extra effort.
Q: Could you provide our readers with a brief introduction to CloudApps?
CloudApps increases sales performance by bringing science to the art of selling. Through the use of our product "SuMo" we are helping our customers to:
Deliver "Sales Performance Insight" (by creating a real-time, data-driven picture of individual sales rep performance, pipeline health & sales process efficiency)
Drive "Sales Improvement Action" (by driving adherence to the sales process & by motivating the high-value, winning sales behaviours that lead to more deals)
Built by a team of ex-Salesforce & Siebel CRM veterans, SuMo brings a fresh approach to the common and very real issues experienced by today's sales leaders. Imagine if you could track & motivate the high-value, winning sales behaviours that allow you to:
Rapidly build a clean & healthy pipeline by identifying deals you should qualify out of
Know with certainty that you will hit your committed target & forecast
Identify and address the weak areas in every sales rep
Drive reps to follow your proven sales process
Dramatically improve adoption and use of your CRM system
Reduce ramp-to-revenue time for new sales hires
These are the challenges that SuMo is solving for customers such as Vodafone, Roche, UBM, SIG, Post Office and many more.
You can watch a demo of SuMo in action here.
Q: How exactly does SuMo help increase sales performance?
There's a science to winning, why would you leave it to chance? SuMo replaces the outdated sales management approach of gut-feel, intuition and guesswork that simply doesn't scale.
How does it work? SuMo continuously improves deal health by automatically monitoring and coaching high-value, winning sales behaviours.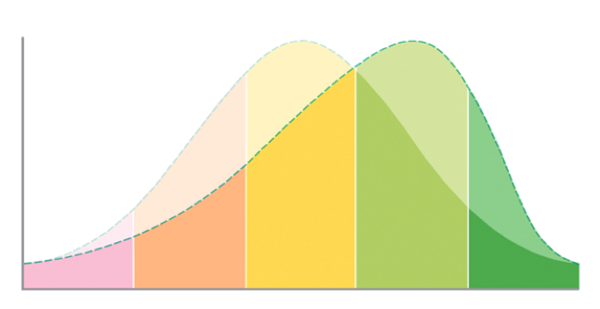 What does SuMo do?
Benchmarks 'sales excellence' (i.e. learns what 'good' looks like)
Coaches every rep to be a top performer (motivates every rep to follow 'good')
Exposes the true health of every deal (provides an early warning system of deal health)
According to the Sales Executive Council: "A 5% performance increase in middle ground sales reps yields a 70% revenue increase when compared to an equivalent performance increase in top sales performers"
This is an approach we like to call moving the middle and it's the fastest way to increase your sales performance.
Q: Who is SuMo for?
SuMo helps:
Sales Leaders that want to "move the middle" performers by getting more of their core performers to behave like top performers
Sales Reps who strive to improve and to be the best they can possibly be
Sales Operations who want to make sure the number forecast is the number delivered, without fail
Sales On-Boarding who want to reduce the ramp time for new hires
Sales Enablement who want to drive real-time sales coaching
Q: Why do they love SuMo?
Because SuMo:
Delivers a clean & healthy sales pipeline
Builds a smarter, fitter sales team that religiously follows your clearly defined sales process
Delivers peace of mind that you will hit your target & forecast
All of which will contribute to a sustained increase in sales performance. The results speak for themselves:
Qlik:
140% growth in pipeline opportunities
230% increase in lead response rates
SIG:
60% growth in sales pipeline
50% increase in sales productivity
SixPack Shortcut:
doubled average sales price
reduced sales on-boarding by 59 days
Q: What advantage does SuMo have over its competitors?
Competitive solutions typically focus only on 'sales motivation' and ignore 'sales performance insight'. We have always found this rather puzzling. We have long since believed that you need insight into the current performance of your sales team in order to know what to motivate more of!
Competitive solutions also focus on just motivating more "sales activity" i.e. making more sales calls. This is a very poor way to drive revenue growth. For example, I could make 100 calls in a day and hit 100 voice message machines. Not exactly winning sales activity!
However, consider a sales call that lasted more than 10 mins, to a senior exec title, who is a decision maker for a deal that is forecast to close this month. This is a high-value sales behaviour that I would want to see my sales team exhibit more of. These high-value behaviours are often complex in their nature and usually time bound. These are the behaviours that SuMo tracks and motivates.
SuMo tracks & motivates high value sales behaviours. These behaviours may also be negative or careless behaviours. Examples of careless sales behaviours would be where:
the close date for a deal has been in the past multiple times in the current ¼'r
the deal value is bouncing around over time when the deal is in a late stage
Known as Leading Sales KPIs (because they are the metrics that define the success of the outcome), these KPIs span the sales process and define the right path to sales success. Leading KPIs complement lagging KPIs which are rear-facing and hard to influence. Most sales organisations incentivise to the lagging KPI of closed revenue but tend to neglect the leading indicators.
Some of our customers use SuMo to track what is happening in their sales team. This allows them to generate sales performance data that is not otherwise accessible. This insight exposes which reps adhere to the sales process, uncovers exactly what top performing sales reps actually do and highlights where friction points in the sales process are. This is SuMo Insight.
Some of our customers use SuMo to motivate more of the complex "winning" high-value sales behaviours. This is SuMo Motivate.
Most of our customers use SuMo for both. By doing so, they create a continuous cycle of improvement that iterates between 'sales performance insight' and 'sales improvement action'.
Below is a typical example of a scorecard approach using SuMo Motivate to drive achievement against leading sales indicators: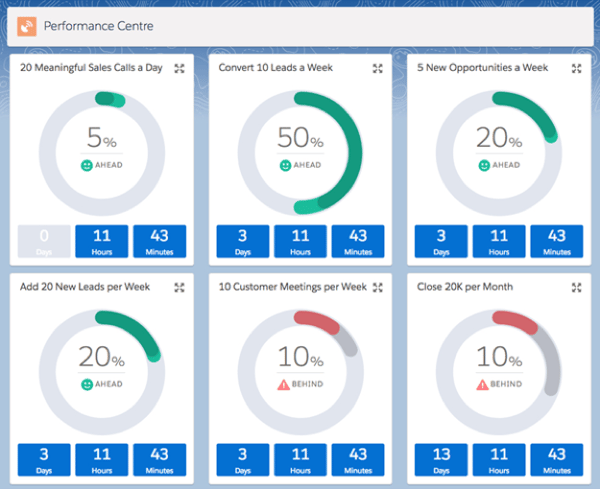 Q: What are your plans for the future?
SuMo is a cloud-based app that is built on the Salesforce.com platform. Our development team deliver multiple product updates throughout the year driven by customer demand. Due to the seamless nature of upgrades our customers are able to enjoy this constant innovation at no extra effort.
A recent example of this is the release of SuMo Predict. This capability uses machine learning to deliver a predicted outcome for each and every deal in the pipeline. This outcome is based on the profile of a 'typical deal' that SuMo learns about by crunching historical deal data. The predicted outcome is then measured against a template of the high-value sales behaviours that should have been applied to the deal through each stage of the sales process.
The result is an early-warning system that shows the health of every deal at that precise point in time. This allows for deals that are straying off track to be identified early and corrective action applied.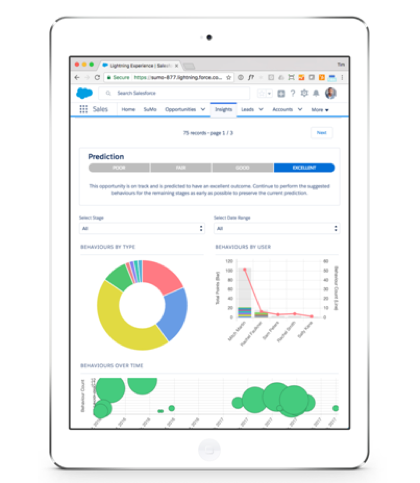 Most importantly, SuMo Predict takes the extra step for you. SuMo highlights the reasons why the deal has strayed off track making it easy to understand the corrective action that should be applied.
Driven by customer demand, future plans for SuMo include these core areas:
Smarter Coaching & Stronger Predictions. By deploying Artificial Intelligence to uncover, suggest & apply new working practices.
Deeper Behavioural Insight. By leveraging Machine Learning to gain deeper, richer insights from user & group behaviours, to identify more targeted coaching opportunities
Increased User Engagement & Motivation. Pushing 'Motivational Mechanics' to the next level by deeply incorporating sales psychologies into the SuMo motivational framework & mechanisms.
Interview originally published on SuperbCrew.
Want to chat to David directly about improving your sales performance? Start getting more from your Salesforce investment today. You can book a personalised demo here.