By focusing on what we can control and preparing for what we cannot we can be ready for any eventuality and in turn, increase sales effectiveness for our business.
A blog post by David Kirk, SuMo Sales Director, CloudApps.
Ever heard of a "Black Swan"? And no, I don't mean the feathered variety!
Black Swans are the random events that underlie our lives. Events that are impossible to predict, yet after they happen we always try to rationalise and make sense of them. Keep that thought in mind for a moment.
Originally published in 1984, The Goal is a management-oriented novel by Eliyahu M. Goldratt, a business consultant known for his Theory of Constraints.
It is often used in management colleges to teach students about the importance of strategic capacity planning and constraint management. Time Magazine even listed the book as one of "The 25 Most Influential Business Management Books"
Like other books by Goldratt, The Goal is written as a piece of fiction. The main character is Alex Rogo, who manages a production plant owned by UniCo Manufacturing, where everything is always behind schedule and things are looking dire.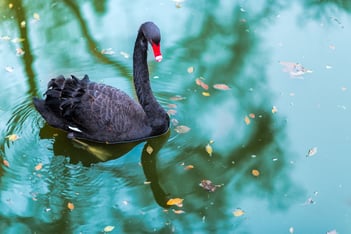 Alex is a harried plant manager working ever more desperately to try and improve performance. His factory is rapidly heading for disaster. He has just ninety days to save his plant or it will be closed by corporate HQ, with hundreds of job losses. It takes a chance meeting with a colleague from student days, Jonah, to help him break out of conventional ways of thinking to see what needs to be done.
These were some of the thoughts in Johan's mind when he first set out to help Alex:
"Black Swans do happen"
"There are things we know we know and things we know we don't know"
"Focus on what you can control"
As the storyline unfolds, Johan's concerns grow around the accuracy of what it was that they did know. His concerns grow heavier still on what they did not. He remained always challenging, clarifying, and always probing.
He cared little about what "could be" and kept focus on defining "the goal" of the business. From here, he would pick out "bottlenecks" to determine success. He stayed focused on what he could control and prepared through hard work and determination, for what he could not.
How? By building a bulletproof system around the things that did work, so when something came out of left field, it wouldn't catch him unprepared.
And here's the moral; The Black Swan will come along, this you know. When it does if your process is solid, well-constructed and carefully managed then you will be in good shape to navigate a course around it.
Much like a gold medallist cyclist who has a detailed race plan and knows the perfect cadence they must maintain to win, Johan taught us not to try too hard to focus what could or might happen, rather to build robustness into the process to cope with it when it does.
Knowing what we need to do to be successful and then doing it, again and again is where success comes from; the so called habitual behaviours.
Sales is no different. You know the KPIs that cover your entire sales process and I would bet they are behavioural in their nature (e.g. 60 calls per day, next steps on every opportunity, sales stage advancing in a timely fashion, close dates never in the past).
If you can "control these controllables" across the entire sales journey and drive more of the good sales behaviours, you will undoubtedly drive better results. When the Black Swan does glide into view you will be well armed with a stronger, healthier pipeline of opportunity that will allow you to sail straight past and off into the distance!
Up next: