Can businesses set attainable sales goals that don't incentivise fraudulent techniques among sales team?
Software Advice, a CRM software reviews firm, has just published a very interesting blog on the perils and possibilities of setting sales goals within SMBs. In the article, Andrew Friedenthal discusses how businesses can set reasonable, attainable sales goals that don't incentivise fraudulent techniques among your sales team.
This article comes ripe after the US were hit by the bombshell of Wells Fargo, a financial services institution recently slapped on the wrist for creating fake bank accounts for unknowing customers, all in the name of hitting sales goals.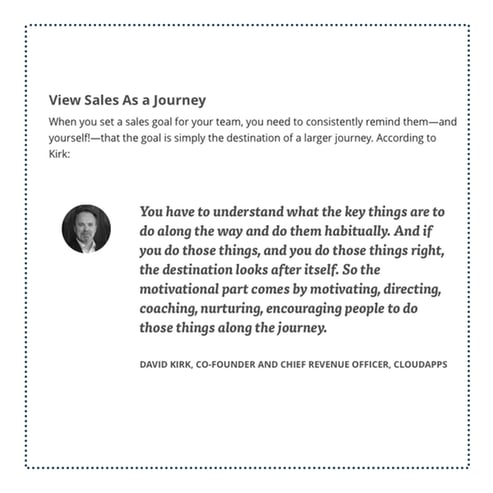 This fraudulent behaviour left many wondering what was really at the heart of sales motivation and setting ambitious targets. Surely, pushing sales reps to achieve ever-growing goals should be a good exercise any manager worth his/her salt should be promoting. But it turns out that in an aim to motivate sales, we run the risk of instigating an uglier disposition. One that could lead reps to use the dark arts to hit that magic number…
This blog shows us four easy techniques we could all deploy to guarantee we motivate sales in a positive and sustainable way.
Read on to find out what our very own Dr David Kirk has to say about creating a motivating sales journey that will encourage a positive company culture and beneficial habits within your team.
Are you seeking fresh sales incentive ideas? Don't just reward for reaching the destination! Modern sales incentive ideas focus on bite-sized targets that span the entire sales process. Discover more by reading this article.