SuMo Motivate makes Salesforce smarter by bringing artificial intelligence into every interaction and decision. Allowing customers to make smarter sales decisions and delivering accelerated sales outcomes.
New features include deal health insight, guided selling and deal outcome prediction.
London, February 13thth 2017 - CloudApps Fortifies Salesforce CRM with Artificial Intelligence & Deal Prediction Capabilities
CloudApps, the company behind SuMo Motivate, the sales performance accelerator, today announced a major advancement with the Spring release of its flagship product.
In the latest release, artificial intelligence (A.I.) and machine learning have been added into SuMo Motivate, enabling the Force.com native app to predict the outcome of every deal in its users' sales pipeline. Thanks to this advanced new addition, SuMo Predict provides sales leaders with the ability to dramatically increase forecast accuracy.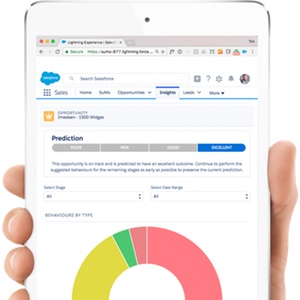 Complementary to the Einstein offering from Salesforce, SuMo's A.I. prediction engine considers many weighted factors, including a detailed analysis of the recommended "winning" behaviours that have been completed on an opportunity.
Available immediately, SuMo Motivate can be deployed independently of Einstein or can be used as a feed to help Einstein learn what good sales behaviours look like.
Building on its extensive behavioural motivation capabilities, the latest release offers transparency into the health of the sales pipeline for sales leaders and reps alike.
By displaying behavioural analysis, by sales stage, managers and reps can gain a clear picture into the health of any deal. SuMo Motivate ensures that precious resources are applied to only the healthiest deals, further boosting the chances of successful closure.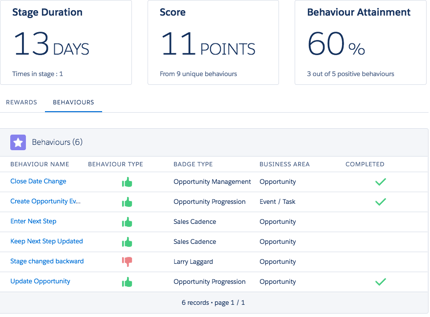 Lastly, SuMo Motivate has added "guided selling" to its impressive list of capabilities. Managers and reps can now review a list of the required behaviours for their deals by sales stage. Visual indicators, including card displays, help the manager and rep clearly chart progress and identify gaps. Known as "maximising the middle" this approach to guided selling is helping customers increase the performance of core sales performers.
"This release takes CRM to the next level. We've moved away from a static system, seen as a data dump by reps and a complex environment to navigate by sales managers.
SuMo Motivate v6, breathes new life into Salesforce, bringing transparency into the health of each deal and highlighting gaps in opportunities. This predictive insight will help sales leaders develop a much stronger believe in their own forecast, whilst facilitating better targeted coaching for their teams.
We firmly believe this tool will become indispensable to any modern sales leader looking to impact their margin" said David Kirk, Chief Revenue Officer of CloudApps.
About CloudApps
Founded in 2009, CloudApps accelerates sales performance & delivers customer service excellence by uncovering, monitoring and coaching more of the high value "winning" behaviours that form the cornerstone of success.
CloudApps is in use by over 250 customers, including blue-chip organisations globally such as Vodafone, Unilever, Roche, Post Office, SIG and Qlik.
For more information, go to http://www.cloudapps.com
Media Contacts
Tim Knight (tknight@cloudapps.com)